Website Designing Guidelines for School / College / Coaching Institute
---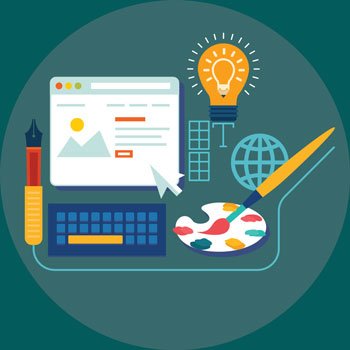 The design of a college website will differ significantly from a typical business website
Nowadays, education is at the peak of its popularity, with many colleges and schools offering classes online. Furthermore, the pandemic compelled people to rethink educational and e-Learning systems. It's important to have your educational website well built to attract and engage prospective students.
Keeping this in mind, choosing the right approach to the project can mean the difference between success and failure.
Some institutes assign web design projects to businesses that have no prior experience in the field. The final product will simply fall short of the audience's expectations, whether they are students, faculty and employees, alumni, administration, stakeholders, or others.
Evaluation of the website
If your School/College is considering creating a new website, you've probably already identified a few aspects of your current site that you dislike. You might think the design is a little dated, the navigation is clumsy, or certain information is difficult to find.
Whatever your reasons, it's critical that you and your team put your feelings on paper at this point. Taking the time to express exactly what you want to improve will help you to crystallize your vision for the site you want and ensure that all key stakeholders are on the same page.
1. Content
It is critical for a website for an educational institute to have helpful informative content because the more helpful content there is, the more likely the audience will engage in the institute's services.
2. User Experience (UX)
When a user visits a website for the first time, the first thing they notice is the overall experience, as well as the convenience and ease of use.
It's known as the website's user experience; the better the website's user experience, the more likely it is to appeal to a large audience. It is critical that a School/College or college's website is user-friendly.
The website should include informative blogs, infographics, and educational content that can assist students in finding answers to their questions.

3. SEO
The website should be SEO friendly in addition to being user-friendly and having informative content.
The blogs and articles must include important keywords that are frequently searched on Google, making it easier for the website to appear in the top searches.
Common Flaws
There are numerous website design solutions accessible for maintaining and improving your college's website.
Some institutes assign web design assignments to businesses that have no prior experience in the field. The final product will simply fall short of the audience's expectations, whether they be students, professors, and staff, alumni, administration, stakeholders, or others.
A confusing web navigation is one of the most common flaws you'll notice on college websites. With all due respect to budding talents, students may lack the knowledge necessary to create a website for their institution. For the job, you'll need professionals. The website should be easy to navigate and use. Users will become frustrated if they have to click through a lot of steps to get the information they need it.
One of the most common flaws found on many college websites is missing or incorrect information. A college website must be informative to all audiences, including new students who are considering enrolling. It is of no use if the sure does not provide a proper knowledge base.
If a website is cluttered with irrelevant information that isn't useful to users, it is doomed to fail.

Your website should not be monotonous. It does, however, need to maintain the expected level of professionalism. Many institute websites, in one way or another, cross those lines.

Establish clear objectives for your web design project in education
A web design project's goal should be much more than just 'create a better website.
Which of your audiences you are considering will have a big impact on what these goals are. Prospective students are likely to be a top priority, so it might be a good idea to set a goal for how many inquiries or conversions you want to get after you launch your new site.
With this goal in mind, you'll be able to keep your redesign on track and take steps to improve UX while keeping your target student personas in mind.
Students, faculty, and staff should be surveyed
To get the most out of your website redesign, you must first understand the needs of your education community. And the more effective your School/College/ website is, the better it will be at assisting you in meeting your overall communication objectives.
History is the best predictor of future performance when it comes to giving your next website the best chance for success. Many communications managers devote a significant amount of time and effort to the content side of their website but have little understanding of how it performs. They have no idea, for example, who is looking at their School/College's website or what pages they are looking for.
Make a list of your objectives, requirements, and roles
The task of creating/redesigning a new website is multi-faceted, requiring collaboration from a variety of School/College managers and departments, including communications, IT, administration, and in some cases, dedicated webmasters. It can be difficult to keep track of the process, which is why it's critical that you steer the project with clearly defined requirements, goals, and roles.
Lead Generation Strategy

It's important for any website to generate the lead/enquiry for the business. In case of education the web-experts has to plan lead generation and prospects to serve the purpose of the website. For example proper placing the call to action, chatbot, live chat (human), contact-us form, quick contacts, social media buttons, display contact number, WhatsApp number, Email address etc.
Call to Action Strategy

A clear call to action and application form will show the readers what the institute wants its target visitors to do—apply, take a virtual tour, or subscribe to a newsletter. Many educational institutes disregard these characteristics, so you have a real opportunity to stand out.
Make a sitemap for your website
The most important usability factor is a well-organized website. Your sitemap is a diagram that depicts the structure of all of your website's pages. It's your primary design tool because you're testing the logic and order of your pages at this point in the process, and doing so in a way that allows you to visualize how usable or accessible they'll be.
Amass your resources
With visual appeal being such an important factor in the success of your website, you'll need to get organized and smart about managing your digital assets. Having all of your digital assets together will help you to be more creative and identify which areas of your content need to be bolstered with new images or videos.
Make a launch strategy.
Now it's time to have some fun. Perhaps your School/College community has been clamoring for the new website: staff are eager to see when it will go live; parents are ecstatic to see their survey results come to life in a cool-looking, useful, and engaging website; or your team is simply tired of it.
List of pages should be there in a school/college/coaching institute website:
Home Page
About Us
Our Courses
Resources
News and Events
Contact Us
Admission
Team/Leadership
Career
Placement
Testimonial
Blog
Payment Link
Playstore Link of your Mobile App
Video Resources – Section
Gallery
Press and Media Coverage
Sitemap
Privacy Policy
Refund Policy
Terms of Use
Disclaimer
Useful steps to develop a college / school / institute website

Planning and define the goals
Hire a experience designer
Content strategy
UX and navigation
SEO and Digital Marketing
Downloadable contents/ebooks/videos
Lead generation strategy
Responsive design for mobile first experience
School ERP / Institution ERP
Please remember ERP are different than a institution website. The purpose of a website for an institution is to showcase the services, related activities and lead generation.
Whereas ERP are the business management software systems to handle the complete activities like student management, human resource management, admission processing handling etc. For example EISdigital.com is an ERP system exclusively designed for education sector to digitize/automate the business functions of schools, colleges and institutes.
Conclusion
A college website design project can take a long time to complete, depending on its scope, and it's important to keep this in mind when assessing its feasibility and practicality.
Your website is the online home of your institution more than any other digital channel, and getting its design right can be critical to the success of your student recruitment efforts. While the procedure can be lengthy and difficult, it is well worth the effort in the long run.