How to prepare for UPSC / IAS Exam ?
---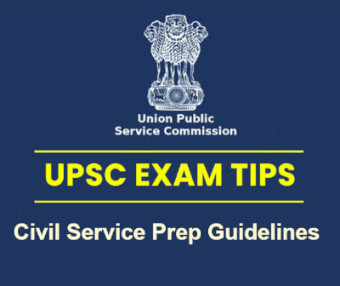 One of India's most prestigious tests is the UPSC Civil Services Exam. Every year, many students and aspirants attempt it across the nation. Only a small amount of these students, however, are actually able to get to their IAS achievements. The IAS test is difficult not only because of the length of the syllabus but also because of its high degree of unpredictability.
You will find everything you need to know about how to prepare for the UPSC exam and change your life in this article.
The UPSC Civil Services test is divided into three parts by the Union Public Service Commission. Prelims are the first stage, which is objective in nature, Mains is the second stage, which is a written examination, and the interview is the third stage, which is a verbal evaluation procedure.
The prelims stage is distinct from the others. Every aspirant, regardless of his or her level of preparation, appears for this stage, and aspirants who fail any of the other stages must begin their journey from here. As a result of the immense rivalry that hopefuls encounter from lakhs of aspirants, the preliminary test necessitates a unique approach. This stage's failure could risk the entire preparation approach.
5 UPSC Clearing Techniques and Methods

In this section, we are going to talk about some of the best techniques and methods that are sure to help you greatly in your UPSC preparations.

The wide syllabus of the civil service examination can be confusing to anyone. Because of it, you need to plan carefully ahead.
Concentrate on Fundamental Concepts: Because those who want to assist build a nation through the public service must know what it takes to pass these exams, they should be familiar with the country and recent events.
To be adequately prepared for the tests, you must have a thorough understanding of your country's culture, customs, and language.
Preparation does not require you to be a bookworm, but rather an aspirant with a realistic understanding of your surroundings.
2. Keep yourself informed about current events
Civil service tests are designed to assess an aspirant's understanding of the society in which he or she lives.
It is a widespread myth among students that they need be experts in foreign country affairs. While knowledge of foreign events is useful, knowing one's local village, district, state, and country should serve as the foundation for one's preparation. This is really beneficial in terms of helping one's country.
3. Take a Mock Test
After covering a significant percentage of the material, a sufficient number of mock examinations should be taken.
A reasonable number of mocks should be used. Too many tests will drain your essential energy, while too few will leave you unprepared.
Mocks should only be presented in an exam-like setting.
It's a great idea to only take part in the Test Series of one standard.
A post-test analysis is a must-do activity.
High achievement should not be followed with joy, and low achievement should not be followed by frustration.
Just run the race if you want to keep moving ahead.
4. Take Careful Notes
There is no way to cover the UPSC syllabus in a thorough manner without taking enough notes.
Notes should be written in a certain manner to make it easier for candidates to memorize and copy them.
Notes should not be overly bulky, and their function should always be kept in mind.
5. Revision in the right way
The Prelims syllabus is quite extensive and scattered.
It's more important to integrate the full material than it is to cover it. As a result, revisions should be acceptable and timely.
The entire coverage of the syllabus and your revision of the portion that needs to be covered needs to strike the right balance.
The syllabus should be thoroughly scanned and prioritized.
The part of the course that is more data and fact-based should be reviewed several times before the exam.
Some sections can be saved for last-minute revision to keep them fresh in your mind.
8 Important Tips to Clear UPSC Exams
The main point to succeed in the UPSC Civil Services test is to carefully plan and execute a strategy that can make you win. Developing a sound strategy is an art form in and of itself. Although many aspirants try to copy the top score holders or use tips they saw online on articles, this is not the right way.
What you'll need is a strategy based on your learning ability, the time you have available, and the advice you've received. Start slow, but make a strategy that is based on the knowledge you have. If passing your exam is your main goal, the first thing is to make a great plan that works wonders for you.
Let's take a look at some ideas and tips to help you get prepared for the UPSC Civil Services exam.
1. Your syllabus should include study time

The wide syllabus of the civil service examination can be puzzling to anyone. Because of that, you need to plan your studies on a daily and weekly basis. You need to structure your studies so that you can read and do revisions on the subjects assigned as much as you want or until you are sure that you have memorized everything.

2. Avoid diving into a new section or topic before a month
Unless it's highly and extraordinarily important, the last month before prelims should not be used to cover any new material. The whole month's needs are planned for revision. Mains can be taken simultaneously with Prelims, however only a part of the time spent on each should be justified.

3. CSAT needs to be treated seriously
Taking it lightly can have serious consequences. People who are new to Civil Services Aptitude Test(CSAT) should keep it at the same level as General Studies. Even aspirants who are further along in their careers should take it seriously. At last, papers from the last educational year shouldn't be overlooked.
4. Make a schedule that works for you
Understand and evaluate your situation before the exam and get prepared for your timetable according to that. Preparations at the last second never work well when it comes to civil service exams. As the civil services exams are kept once a year, you have enough time to carefully plan how many weeks you want to give to each topic.
Always keep in mind that the slow approach always makes you win the race. Because of that, the preparation that has started early is usually more preferred when the exams are only one month away.
5. At each step, evaluate yourself
When you start studying for the UPSC, keep a check of your growth at each level. The crucial elements to remember during an evaluation are the exam questions you got incorrect, the topics you didn't answer, and the tough questions you got wrong because you didn't remember the facts.
It will assist you in keeping track of the topics that require your attention.
Aside from that, make a point of writing down even the correct answers, as this will aid in remembering the subjects in depth. This will help you in finding if you are on the right path.
Well, assessment is the main point for growth, and with the right methods of preparation, you'll do well in your exams.
6. Do not separate your preparation into two parts: Prelims and Mains
Stop working on it right now if you value the UPSC Prelims and Mains to be separate papers. Because these are two separate portions of one exam with a syllabus that is identical.
So, to perform well in both, begin practicing response writing, essay writing, and note-taking right away. The main idea needs to be to top the syllabus than some specific exams.
7. Every civil service candidate should be aware of one simple fact

If they are not psychologically prepared and determined to fully comprehend a subject, they will not succeed even if they attend coaching programs. Those who believe that only coaching classes may provide them with useful preparation advice are welcome to participate. However, rather than preparing for the sake of a name, it is always preferable to study each subject in-depth and with thorough knowledge.
8. Seek advice and assistance
UPSC preparation affects an aspirant's emotional and physical well-being. It can even take you to isolation socially, but you need to have someone watching your back if you want to manage your mental health. Because of it, be sure you be in contact with your family and peers.
In fact, in certain situations, an experienced mentor can be beneficial. When things become hard, the correct advice can help you get back on the right track. Be sure to keep a network of friends, teachers, and peers who will understand you as you go around the preparation process.
If you start your preparations soon, the right way to start is to do it mindfully, physically, and emotionally preparing yourself from the start. A well-planned-out strategy can help you in the longer run.
So, what do you have to lose? Start your journey to passing well in the UPSC CSE exams today!
UPSC/IAS Exam Preparation Frequently Asked Questions(FAQ)

What are the UPSC dates for 2022 ?
Answer - The Union Public Service Commission (UPSC) has released an exam calendar that lists the dates of various exams that the Commission holds, such as the Civil Services Examination (CSE). Find out when the UPSC exam will be held in 2022.
The Union Public Service Commission (UPSC) is the constitutional authority in charge of top-level Central Government job recruiting.
The Commission administers a number of exams, including the Civil Services Examination (CSE) and the Indian Forest Service Examination (IFoS), among others.
The UPSC Exam Calendar outlines the exams that will be held by the UPSC in 2022. Exam dates can be found by scrolling below.
UPSC Civil Services Exam Date Preliminary - June 05, 2022
UPSC Civil Services Main Exam Date- September 16, 2022
1. Date of UPSC CSE Notification 2022 - February 02, 2022
2. Date from which candidates can apply for Prelims - February 02, 2022
3. the Last date to apply for UPSC CSE Prelims 2022 - February 22, 2022
4. Date of UPSC CSE Prelims 2022 - June 05, 2022
What are the eligibility criteria for UPSC CSE in 2022?
Answer - The UPSC Civil Services Examination is open to graduates and final-year students.
The UPSC Civil Services Exam has a minimum age requirement of 21 years.
How many attempts are allowed in UPSC exams?
Answer - The candidate must be at least 21 years old on August 1st of the year in which the exam is taking place. For example, if a candidate is applying for the UPSC CSE Prelims 2022, he or she must be at least 21 years old by August 1, 2022.
A general category candidate's maximum age is 32 years old. That does not, however, imply that he can take the exam as many times as he wants. There are some restrictions on how many times this exam can be taken, which vary depending on the category.
The number of times you can take the IAS exam is as follows:
General Category: 6 times until you're 32 years old.
OBC: only 9 attempts till the age of 35.
The number of IAS exam tries is unlimited for SC/ST candidates until they reach the age of 37.
What is the IAS Exam pattern of Prelims?
Answer -
IAS Exam pattern of Prelims
The prelims examination consists of two mandatory papers: a General Studies paper and a Civil Service Aptitude Test (CSAT) to assess the candidate's analytical abilities.
The prelims exam's questions are all objective in nature. As a result, the candidate must select one of the four options for each question.
The questions are available to you in both languages Hindi and English. However, comprehension questions in the CSAT paper in English do not have Hindi translations.
Each question is written in both English and Hindi. In addition, the prelims test is purely for qualifying purposes. Every year, UPSC determines the cut-off for paper 'I.'
To qualify for the Mains exam, students must achieve a score of at least 33 percent, or 66 points, on the CSAT paper.
Marking Scheme of Prelims
In the General Studies paper, each question is worth two points.
In the Civil Service Aptitude Test, each question is worth 2.5 points.
Even if one of the offered answers is valid, if a candidate gives more than one answer, it will be counted as a bad answer.
There will be no penalty if a question is left blank, i.e. the candidate does not provide an answer.
Paper 2 (CSAT) is a qualifying paper for the IAS test, and applicants must obtain a minimum of 33% in this paper to advance to the next level of the exam, the Mains.
Negative Marking
In the IAS Prelims Exam, applicants may receive negative marks. In the event that three incorrect answers are given, the aspirants would be deducted one mark. That is, for each incorrect answer, applicants will lose a third of a point. On the other hand, if the applicants leave any of the responses blank, there will be no deduction.
What is the IAS Exam Pattern for Mains?
Answer -
Exam Pattern for IAS Mains
Exam Pattern for IAS Mains Each paper will be worth 250 points.
Each paper is 3 hours long. Blind students are allowed an extra 30 minutes.
There will be nine papers in the exam. A candidate's knowledge and grasp of the subject will be put to the test.
Candidates should refer to the IAS Mains Strategy for efficient preparation.
Subjective questions will be asked.
Both English and Hindi versions of the question paper will be accessible. Candidates can learn how many Hindi Medium Students got chosen for UPSC IAS.
To qualify for the IAS interview phase, you must complete all of the papers.
Qualifying Paper
Paper A: (One of the Indian languages listed in the 8th Schedule of the Constitution to be chosen - 300 marks)
Paper B: English – 300 Marks
Marking Scheme for IAS Mains
The Mains Exam is worth a total of 1750 points.
Candidates will be judged on their thoughts, content flow, grasp of the problems/situation, providing viable solutions/strategies, presentation, and language.
Candidates have the option of choosing between two optional papers on which they will be tested. Before choosing any two optional papers, candidates should look over the syllabus of numerous of them, such as English Literature.
IAS Mains Marks Distribution- Mains and Interview
In the Mains, candidates must obtain a minimum percentage. The question papers are designed to assess the candidate's intellectual and interpersonal abilities. The essay-style questions will assess a student's knowledge of the subject and concept. The students will be assessed on their ability to communicate in an Indian language. Candidates would be required to choose between two optional papers.
What are the IAS Exam Pattern 2022 Highlights?
Answer -
IAS Prelims Exam Pattern 2022
The General Ability Test (GAT) and the Civil Service Aptitude Test are two compulsory examinations in the IAS Prelims level (CSAT). This will put the candidates' analytical abilities to the test.
All of the questions are objective. Students need to select 1 of the 4 options given for each question.
Both the Hindi Language Paper and Compulsory English Language Paper have questions. Questions linked to English Language Comprehension skills in class 10th level, on the other hand, are asked through a passage supplied in English solely, with no Hindi translation provided in the question paper.
The IAS Prelims is a qualifying exam for the IAS. To be qualified for the Mains, students need to score a minimum of 33 percent. As a result, they must consult the IAS Prelims Strategy.
The number of candidates that pass the IAS Mains is approximately twelve to thirteen times the total number of vacancies to be filled.
When should you start studying for the UPSC Civil Services Exam and how should you study?
Answer -
You have the drive, the conviction, and the desire to make a career in the civil service. Now comes the path to your destination. Some students start preparing for the UPSC Civil Services papers as early as being in secondary school, while others start focusing only months before the papers. The right time to make studying happen is during the last couple of years of your degree (undergraduate). Start with NCERT books to begin your preparation. Considering the Civil Services official schedule, you can begin reading NCERT books for Political Science, History, Economics, and Geography from Classes 6 to 10.
Begin reading newspapers on a regular basis. Compare and contrast recent events and hypothetical facts in Political Science, History, Geography, and Economics, for example. Plan personal notes that are based on the points that are weak and how you remember the material best. Make use of a large number of resources at your disposal. You can employ any of them, which includes internet recordings, manuals, earlier educators' guides, and instructing focuses. Be sure that you are managing your time well, focus entirely, and put yourself to the test on a daily basis.
How to create a strategy based on the UPSC Civil Services Exam Syllabus?
Answer -
For a good arrangement, a better understanding of the clarity, nature, and scope of the schedule is needed. It makes it hard to evaluate what not to read and what to read. The exam questions are always kept within the given timetable, that's why keeping tabs on the syllabus is important.
Also, before you start your studies, you need a script a sharp method that remembers the details of every step you experience. A system that is a comprehensive agreement about what you're doing, how you're doing it, and what resources you'll require.
Conclusion
The UPSC Civil Services test is a stepping stone to a variety of exciting jobs. The Indian Administrative Service, for example, includes the Indian Administrative Service (IAS), Indian Foreign Service (IFS), Indian Revenue Service (IRS), and Indian Police Service (IPS). Thousands of people take this well-known administration exam. The competition is strong because only two or three hundred tickets are offered on a regular basis. To beat the competition, you must plan ahead of time and maximize your chances of success.
Because the UPSC Civil Services Exam is the country's most difficult, it necessitates more than simply studying. An objective is nothing more than fantasy if it is not well prepared. This is also evident in the UPSC case. You won't be able to pass the UPSC exam if you're a bibliophile. It requires the application of planning along with technology.
A good approach distinguishes between candidates who work hard and those who work smartly. The latter is more profitable because it has fewer sources of information. However, with more sources, the former is less useful.
Thanks for reading!