Institute/School's Digital Marketing Guide - eBook
---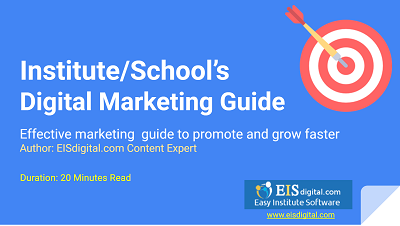 Effective marketing guide to promote and grow your business faster
Author: EISdigital.com Content Expert
This eBook covers the basics of Digital Marketing and related tools necessary for online promotion of School/Coaching Institute services. Here are the list of topics described in this eBook:

1. What is Digital Marketing?
2. What is Digital Assets ?
3. Customer Engagement and It's Benefits
4. Five Platforms(Website, Blog, YouTube, Social Media and Google Business Page) to Promote your School/Institute
5. Five Necessary Tools(Google Analytics, Google Search Console, YouTube Studio Analytics, Facebook Page Analytics, Google My Business Analytics) to Monitoring and Optimizing the promotion/campaign
Please download the
eBook
for complete detail. The link is given below
If there is any problem in downloading this PDF eBook, here are some tips to help you:
1. Click on
Download Now
link, if PDF eBook is opened on web browser then use browser's Download Link (in Google Chrome Browser it's at Right Top side). Or you can Save the page using "Save page as" or Ctrl+S
2. If downloaded correctly then it's by default located in your Computer/Mobile/Tablet's Download folder
3. Use any PDF Reader Software(ex. Adobe PDF Reader, Evince Document Viewer) can be used to open this eBook. Web Browser can also open this PDF eBook, just you need to drag the PDF file to the Web Browser.
Thanks for Reading!